WINTER BOAT STORAGE AT BRUNIA WATERSPORT
Are you looking for somewhere to store your boat in winter? Brunia Watersport provides secure and heated winter storage for all types of boats, such as sloops, sport boats and fishing boats. You can be assured that your boat is stored somewhere safe, clean and secure in winter. We are located at the Veluwemeer. If your boat is kept somewhere else, we are happy to collect your boat, and safely return it at the start of the new boating season.
SECURE AND HEATED STORAGE
Storage is about more than simply providing a large shed for your boat in winter. Cold and damp have no chance with your valuable asset in our well-insulated and heated storage shed. Your boat will be stored at a constant temperature throughout winter.
Our boat storage shed is both visibly and invisibly very well secured. We have space for sloops, tenders and other motor boats. Are you looking for somewhere to store your trailer too? No problem!
FULL-SERVICE WINTER STORAGE FOR SLOOPS AND OTHER BOATS
You can count on a first-class service from our professionals when you store your boat with us. We provide an all-inclusive service and can collect and return your boat throughout the Netherlands. Once the boat arrives at our storage shed, we will prepare it for winter. We immediately hose down the hull and can also polish the entire boat, if you like.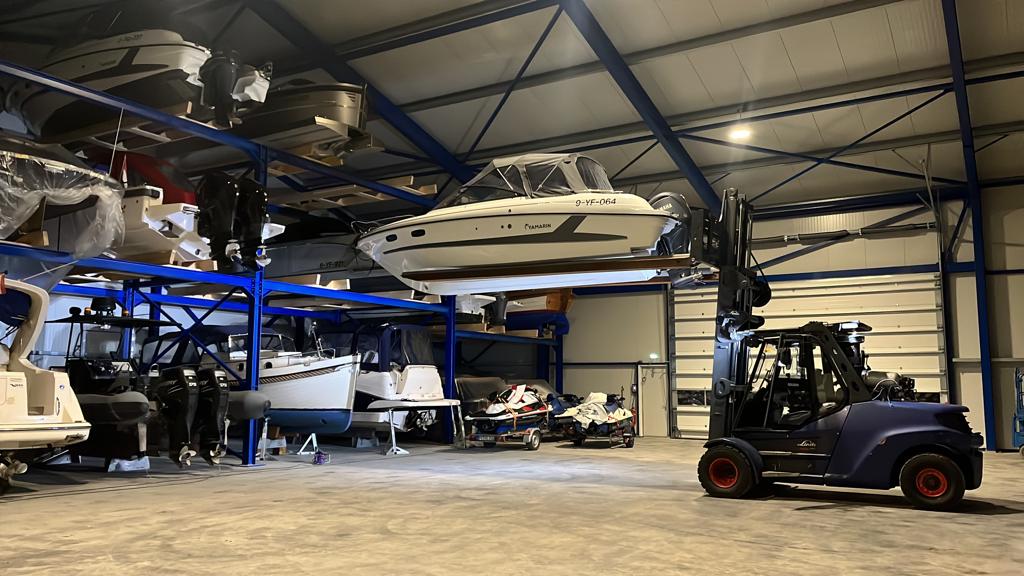 WHAT ARE THE FEES FOR BOAT STORAGE?
Brunia Watersport's boat storage fees depend on various factors. Would you like to see our price list? Our price list shows the storage fees for your boat as well as the fees for winterisation, service and maintenance.
THE BRUNIA WATERSPORT SPECIALISTS
Our specialists are more than happy to carry out maintenance and repairs during storage. The winter period is the perfect time for many boat owners for repairs and maintenance. We can repair any damage, service your engine, polish your boat inside and out or apply antifouling.